I am a terrible mechanic.
Almost two years ago, this bike came home on a trailer and in a box. Out of the blue, a friend had sent me an email to a Craiglist post of a free parts bike with the message, "Hey, isn't this like yours?"
It was exactly like my old 1982 BMW R65, even to the year. It was amazing — parts are worth their weight in gold. From the pictures, I could see a couple things I could use right off the bat.
Another friend rounded up a trailer from his brother, and we took a day to cross the state and collect it. What wasn't on the bike was in a giant plastic tub, but it seemed mostly there. I asked the woman what had taken the bike off the road in the first place, but she had no idea. Her son had it in his dorm at college, and then he'd brought it home; now she was tired of having it taking up half her garage.
It had been a black bike, color code 419, but the tank was half repainted blue, rust and dirt caked in the paint. The big black fairing was in the tub, cracked on both sides; the right-hand crash bar was bent. It looked like it had fallen over in both directions, but that happens.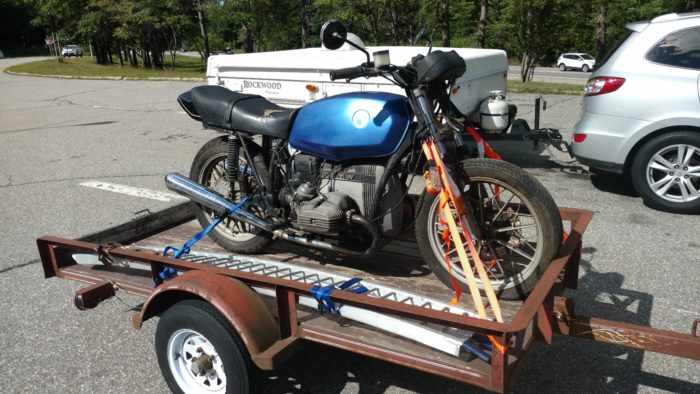 They could not find the keys, so when I got home I wired around it, put in the battery and tank from my other R65, and the bike started right up. When I cleaned the acorns out of the airbox, it sounded even better.
This was no longer a parts bike. It just wouldn't be right. Instead of one old bike starved for attention, I now had two.
---
I bolted things back together, cleaning and checking as I went. I swapped out the master cylinder and gave it a new front tire. For a while, I rode it around town with a headlight assembly from an old Honda CB550 that I'd lashed on as a temporary measure, but eventually I put on a new instrument bracket, which first needed to be straightened and painted.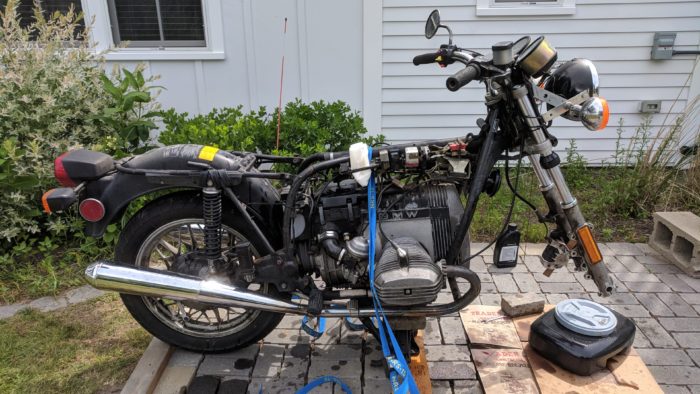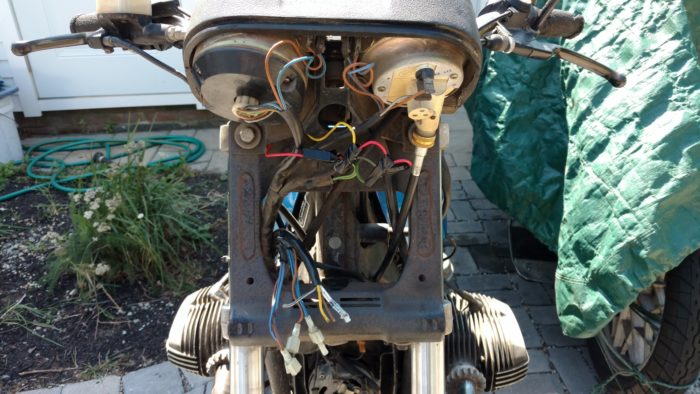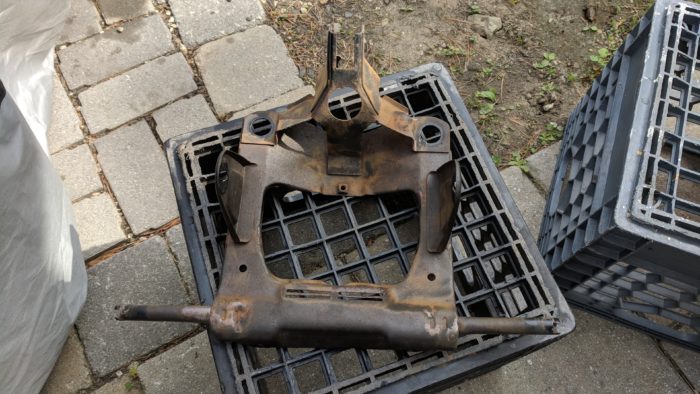 This let me put on a clear fairing that I'd been lugging around for ages. I've never really wanted a fairing, but in thinking about this trip I thought it might be time to try it. I'm getting older, and I want shelter.
New handgrips; patched the clips for the battery covers; new taillight. It even came with Krauser bags and mounts, in pretty good shape. I found a center stand on eBay that didn't have the tab snapped off and put it on.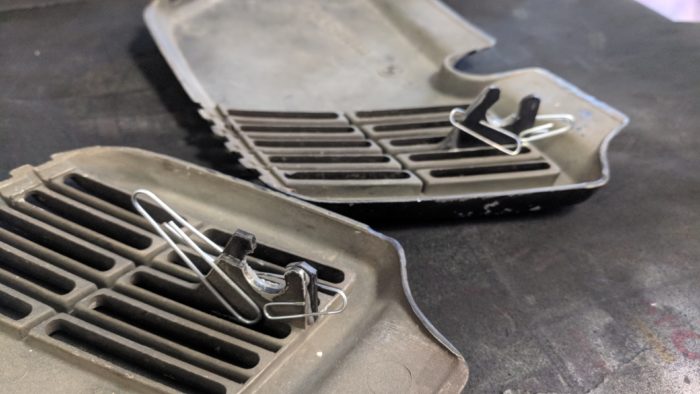 The engine itself continued to sound great. The timing chain is worn, but that will have to wait.
As time grew short, many of my restoration plans got abridged. I'd wanted to re-upholster the seat, but instead just rubber taped over the holes to keep the pan dry and then stretched an old coat over it.
About a month before I was due to leave, I got an unexpected email. They'd found the keys, and wanted to send them to me. This felt like a sign.
I didn't want to repaint the tank myself, since I've never done that before — but, the quote I got was $1000, so that wasn't going to happen. I got it stripped for $50 then went at it with cans: primer, paint, clear coat. I scrubbed out the petcock and got it flowing again, put it back together and it all worked, no leaks.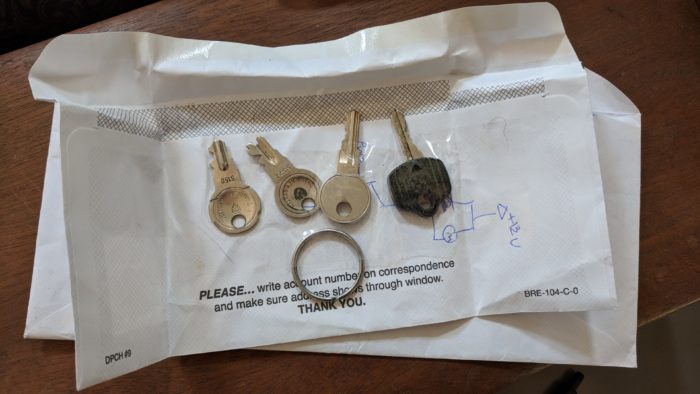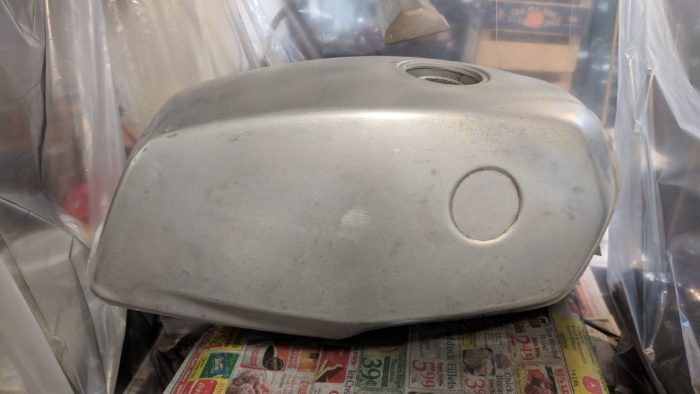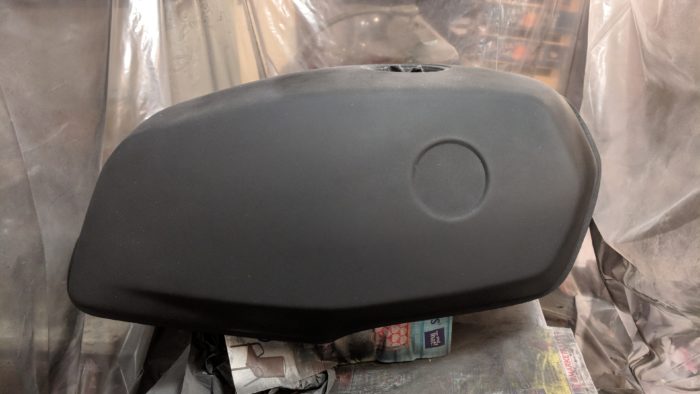 Except the next day after I filled the tank all the way, a tiny perfect pinhole leak appeared at the bottom, spraying a delicate hairline-thin stream of gasoline down onto the engine; apparently the paint had briefly kept it plugged. There was no time for anything more elaborate than plugging it with epoxy, but it was a small hole and that worked fine. It's on the bottom and barely visible.
I did not repaint the mirrors or battery covers, but that's a matter of esthetics. That flaked paint is earned wear, and this is a war rig, a machine for the the end times.
I was about to swap out the worn cables for the better ones from the other bike, but since they still worked it occurred to me that it might be better to use them up and bring the spares as replacements. I strip out the cables from the other bike and bundle them into the saddlebags.
A week or so out, my friend Dwayne (owner of Bavarian Heritage Werks) balanced the carbs for me. Mostly, though, I was just really glad to get another set of eyes on it — what Dwayne doesn't know about old BMWs probably isn't worth knowing. I don't know why he still talks to me, since all I do is bring him terrible problems, generally of my own creation, but he took the bike around the block and said that it sounds pretty good.
The night before I'm supposed to leave, some friends took me out for a drink. It was unexpected and really great; I sometimes hold my plans close, and I've never had a send off before. Chris gave me a charm to ward off trolls, of obvious use in Canada; Trevor gave me a first aid kit, which was fantastic but also a bit alarming, since I'm pretty sure he actually uses it to stay alive. It's in a great little tactical bag, which got passed around the table, and people stuffed money it — also unexpected, and also pretty great.
It's fitting because this bike wouldn't even exist without my friends; it would still be trapped in its old afterlife, unsummoned and unmade.